Morning Candle
for Pauline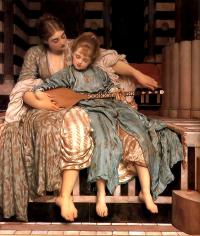 I want your handprints in the sand,
the faraway sand,
the sand with its own light,
broken and crackling under our feet.

Can you show me again the earth,
ocean-winged bird,
painting the sky of your new
soft dreams?
I want that feathered blossom
when I saw it through your eyes,
when frogs were cherubs and
leaves were precious
and you could wear them or
splash them against the
apple-flavored air,
and I could lift you above
the earth when the earth
was pastel,
and it handled us gently as
if we were its ancient
beating heart,
when the sun scattered its
red soul across the sea
and died too young.

If I could fly backwards and
meet you there, I would plow
the clouds like Aurora and
bring the kindest sun, a gold
tissue, to your crib before
you had a chance to fear
the day.
I would hold yesterday like
God in a blanket and
bleed love till I fainted by
your side, and
I would swallow every sorrow
and snatch your words before
they fluttered in droves past
my ears, through
the knives that cut them into
memories behind my eyes.

I would.

Oh lantern of joy and sadness,
spirit breaking out of a
robinís egg morning,
tall candle exploring the skies
like pines,
eyes cracking open your
personal moon,

Are you leaving me minute by
minute?
Who will shatter the marble leaves?
Who will catch the frogs
when they break the paper-thin air?

Patricia Joan Jones

This poem received the Galadrial's Goblet Award at Galadrial's Respite poetry forum and was chosen Poem of the Week at The Golden Quill Poetry forum.